Doris Whitfield (1900–1990)
aka Doris Darbyshire
Parents:

Siblings:

Sarah Whitfield
(1884–?)

Married:

Children: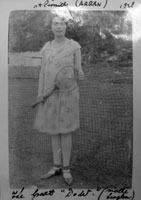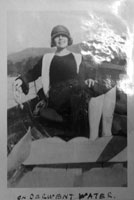 Biography
Doris Whitfield was born on 27 February 1900 at 147 Darlington Street East, Wigan. She was the youngest daughter of Francis Whitfield, a Railway Goods Guard who had been twice widowed, and Elizabeth Harrison, a textile worker. Doris had two sisters: Sarah, born in 1884 to Francis and his second wife, Ellen Talbot; and Ellen (known throughout her life as Nellie), born in 1896.
Doris grew up in Poolstock, Wigan where she attended St. James parish school from the age of five years. We know something of Doris's childhood from her verses. She seems to have lived a happy childhood with her family in Poolstock. She played in the Poolstock meadows with her friends by the River Douglas. She was responsible for helping her mother with daily household chores from a young age. Doris and her family were active participants in the community and its many events revolving around church and school. One of Doris's verses offers a tiny glimpse into her life on Shrove Tuesday, 1907:
I see that it is snowing, so I must join the play,
We make snowballs and a snowman, it is a lovely day.
At noon my mother beckons, she's made pancakes nigh a score,
I take them round to neighbours who are old, and sick and poor.

My sisters set the table, we all sit down with zest,
Most mothers make good pancakes, but my mother makes the best.
And afterwards my sisters tidy up the room,
And I must wash the dishes, every plate, knife, fork and spoon.
Doris had a large family in Poolstock and the larger Wigan area. She was good friends with her cousin Maggie Harrison who was about the same age and lived nearby. For a number of years Doris spent holidays at the home of her aunt Jemima Harrison-Woods in nearby Golborne, where she played with her cousin, Roland Woods. From the age of ten Doris attended "Cookery Class" in Wigan town centre. She also learned to sew, perhaps from her sister Sarah who was a dressmaker, as later in life Doris and her sister Nellie were both expert seamstresses.
The 1911 census captured a snapshot of Doris and her family living at 24 Byron Street in Poolstock.
In her teenage years Doris, like others her age, "worked for the war."
By this time any of our age,
Were working for the war.
We had to start at six am,
And we travelled by tram car.
On 14 September 1929 Doris Whitfield married John Darbyshire at St. James Church in Poolstock, Wigan. John was the son of Thomas Darbyshire, a miner, and his wife Amelia. At the time of their marriage John was living with his parents in Pemberton, where he worked as a weaving manager. Doris was living with her family at 70 Pool Street in Poolstock. John Thomas Calland, who stood for John Darbyshire at the wedding, later married Doris's sister, Sarah. After they married John and Doris settled in Wigan.
It was perhaps on their honeymoon that John and Doris drove from Wigan up to the Lake District in an old Morris 3-wheeled car, soft-top model!! They were to stay at the famous Kirkstone Pass Inn which is still a working pub today. The Inn is located at the top of Kirkstone Pass which is one of the highest roads in the Lake District. As they approached the very steep hill from Ambleside John realized that his under-powered car wouldn't make the steep climb with the weight of two passengers. So John made Doris get out and walk two miles up the hill, while he reversed the car up the incline (reverse was his lowest gear)! Doris talked about this unladylike thing she was made to do for years afterwards!
Doris and John had many friends in the 1920s and early 1930s. They were members of many clubs, including motoring clubs and walking clubs, and had many great days of fun. In 1935 Doris gave birth to their first and only child, Francis John Whitfield Darbyshire. A few years later World War Two broke out and John joined the Royal Air Force. The family relocated for a time to the village of Three Crosses where John was a Squadron Adjutant at RAF Fairwood Common, now Swansea Airport.
So came we to South Wales,
J.D., Francis and I.
To the village of Three Crosses,
The Aerodrome close by.

At Fairwood, J.D. held the post,
of 'Squadron Adjutant.'
He did it well, and soon became,
The 'C.O.'s' confidante.
During the war John, Doris and Francis often travelled to Blackpool to visit Doris's sister, Nellie, who lived at 51 Ingleway Avenue. Doris's mother, Elizabeth, was by this time living with Nellie. Doris and Nellie were always close and John became best friends with Nellie's husband, Cranley Britnell. John and Cranley loved going for a night out together at the Welcome Inn, a notorious pub known for having a "singing licence." The two men invented a 'Soot Machine' – essentially a small pipe-tobacco device which they took into the pubs with them for a laugh. They filled the device with soot, filthy black stuff, and then asked people if would like to try a new flavour of tobacco in their pipe. Upon sucking, they would get their face covered in soot. Or if they were clever enough, they would put a finger over a little hole (valve) which made the soot stay where it was supposed to stay, and just enjoy the smoke. Needless to say, they got into a lot of trouble and almost fights on many occasions.
John and Doris also had good friends from Dumfries up in Scotland, Syd and Betty. Syd used to bring whisky down from Scotland to sell in Blackpool, during the war years (to make a little extra money) as it was cheaper and available up in Scotland.
After the war, the Darbyshire family moved to Chorley Road, Swinton, near Manchester. In Swinton John started his own, successful family business in industrial components distribution. The family lived here until John died of a heart attack in 1962 at the age of 60. John was the love of Doris's life and she was devastated by his death. John's son, Francis, took over the family business after his father passed away.
Shortly thereafter Doris and Francis moved from Swinton to 44 Ingleway Avenue, Blackpool to be near Nellie and Cranley. In 1970 Doris came to Toronto to attend the 60th wedding anniversary of her cousin, Henry Harold Harrison who had emigrated in 1907. She made the journey with her cousin and childhood friend, Maggie Wright (née Harrison) from Wigan. During her visit she met, for the first time, Harold's five children including his daughter with whom she corresponded for the rest of her life. While in Canada Doris also visited her cousin and former playmate, Roland Woods, who was living in Montreal.
Writing verses was a lifetime pastime for Doris. However it was not until she was in her eighties that she undertook to compile them in a single volume and give them as gifts to some of her friends and relatives. She also wrote or rewrote many of the verses during this time. She often spoke to her family of her childhood in Wigan, and how wonderful it was. She also spoke of her great love for John and Francis.
Doris died on 2 July 1990 while living in a nursing home in Blackpool.